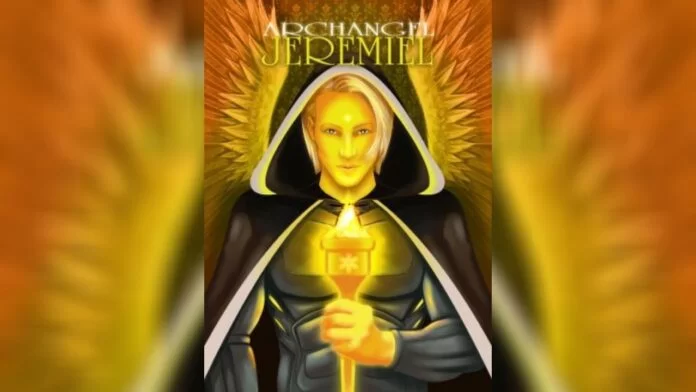 Archangel Jeremiel helps us to forget the fears and anxieties of the future that are harming our present. He also uncovers the weakening wishes of our hearts and strengthens them. So that we can work for the fulfillment of those.
Who is

Archangel Jeremiel
Archangel Jeremiel is commonly referred to as the 'Angel of Dreams and Visions'. He is one of the seven archangels of the highest order. Jeremiel reveals the secrets of the Universe to the seekers. He helps us to increase our psychic abilities and attain inner peace and lucidity. Archangel Jeremiel also helps us to receive and interpret angelic messages. Archangel Jeremiel also inspires the people and guides their thoughts, energies, and actions, and will make them feel responsible for their work.
He is also responsible to make the souls review their actions in life and get ready for their repercussions whether to board for heaven or hell. We can also call Jeremiel to review our actions and make necessary adjustments for the ill deeds they have committed to balancing those with positive actions.
Archangel Jeremiel lovingly helps those who are willing to change. Jeremiel means the Mercy of God. Jeremiel delivers us mercy at times of challenging situations. He helps us to think clearly hence making the situation appear clear to us and as a result, we may be in a position to find out the solution to it.
He can also fetch us futuristic guidance. According to this we can change our actions and cope up with the future. As Jeremiel is the 'Angel of Visions' it will surely give you a glimpse of the future. This archangel also has the answer to your all questions whether it be related to the creation of the Universe or any matter. You can ask any question you wish to. Jeremiel is always willing to answer. Jeremiel clears your perception and adds positivity to your clairvoyance.
Angel

Jeremiel

Prayer
O Divine Archangel Jeremiel! Today, I ask your help to cut me off from my past. Today, I ask you to clear my vision. Please review my actions, and deeds, and do the necessary adjustments to make me more enlightened. Amen! 
He is a loving mentor. You can call Archangel Jeremiel whenever you feel like you are making decisions for your life, you need better, clear, and prophetic visions along with clairvoyance or when trying to figure out the meaning of dreams or trying to relate events and their repercussions.
Jeremiel helps us to find what is actually necessary for us and what is not. He sheds away our fear of not being able to achieve our desires in life. Jeremiel tells us to stop living in the past. Just extract what's important to know with that experience and move on in life. He decreases our habit of trying to please others as it says first please yourself then please others.
His Color:
Eggplant Purple


His Crystal:

Amethyst

Archangel Jeremiel consoles us to be happy and content with what we have and also be thankful for that. He also helps us toward our spiritual path and leaves those things which no longer serve the purpose of betterment of us. Archangel Jeremiel will make us full of gratitude which will lead to attracting those who are the same way as we are. VIBBES KADA is one of the best tools to give you all the benefits of Archangel Jeremiel's energies even without any long and time-consuming rituals.
Archangel

Jeremiel

 Healing the Past and Patterns Guided Meditation
Now Read: Archangel Michael Gives Courage & Protects us from Negative Energies

Also Read: Archangel Raphael is a Great Healer & Always Ready to Heal You