Are you excited to know the 5th Ritual/ Program of Money Magnet?
I am sure you are feeling good following the 1st Ritual of blessing things that you have, the 2nd Ritual of blessing other people for what they have and you also wish in your lives. You are also vibrating in high frequency with 3rd Ritual sending love to your desires. The 4th Ritual helped you to know the good habits of Self-made billionaires that will fill the missing actions in your daily to become financially successful.
If you have followed all the above rituals, without any breaks, now read and follow the 5th Ritual in this article.
You have multiple desires relating to money, you keep thinking about those desires. Sometimes you get so busy that you forget your financial wishes. You get so engrossed in your daily life that you forget what are you working for. If this is what is happening with you, then this page is for you.
How can you remind yourself about your wishes? Its very simple.
In this ritual for the next six days, you need to take some efforts to blossom your desires.
Make your wishes colorful and see them happen
Collect beautiful pictures of your desires. Watch them as frequently as you can. These pictures will lead you passionately to fulfill your desires.
You can do this ritual in many ways. Most important thing is to execute this ritual in these 6 days.
Some examples:
1. If you wish to have a particular Car: collect pictures of that car. Suppose you wish to have a White Car, collect a picture of the white car of the model you want. You can collect multiple pictures of that model car, some pictures with the side view, front view, picture of that model on a journey. You can even collect a picture of that car with people that resemble your family in it.
2. If you wish to have a new home: collect pictures of an apartment or villa. If you are passionate about a modular kitchen, collect pictures with a modular kitchen with the color of your choice, collect some furnished bedroom pictures with a cozy look. Add some pictures of furnished living rooms of your choice.
If you wish for a balcony with some plants, collect pictures with growing plants in the balcony. Collect some pictures of children's rooms with beds of their choice, some pictures of a wall with pictures that children would love.
3. For a flourishing business: collect pictures of wonderful office, Pot of gold, Graph with increasing stocks of your company, shaking hands for closing business deals, happy clients, currency notes. If you are working with international clients, stick some pictures of that country map and write your business firm's name on that map (this will remind you of your desire to expand your work in that country).
If you want to expand your business in different cities in the same country or your own country, take a picture of your country's map and write your business firm's name or brand name in those cities and keep this picture on your vision board.
You can stick a picture of a person counting cash or a person who is sitting surrounded with cash. You can stick your business logo also on the vision board. You can even stick the logo on maps. You can collect pictures of happy people working in the office, this can connect you to the idea that you have a happy team to work with.
4. For a good job or job promotion: collect pictures of a nice cabin if you wish to have a higher designation or promotion, picture of a smart confident person doing a power-point presentation to higher management or directors of a company, happy face at work, a leader motivating a team of people, a person who is addressing a group of people on the mike or on a dais in a professional conference, picture of international airports if you wish to be a global executive/ director in a company, person counting currency.
5. For a luxurious life: collect pictures of fashion brand clothes, watches, jewelry, vacation spots, pictures of holiday destinations, cruise pictures, flight pictures, dining at resorts, whatever you feel is your idea of luxurious life.
6. Matrix of Abundant life: You can also club any or all the concepts described above in one vision board as per your choice like:
Picture of currency notes, furnished home, happy team, holiday destination, car, happy family…
Picture of rising stocks of a company, dinner with family at resorts, pictures of vacations in different cities, a bag of gold, lavish lifestyle, happy children…
Picture of home with a garden, car with family on a drive, couple with shopping bags, children in a reputed university, the currency of different countries, monuments of historic places representing places you wish to visit, and so on…
You can make any combination of pictures. Go wild with your ideas in choosing the pictures. Here are only a few examples, there can be many permutations of combinations based on your personal desires.
How do You Choose the Pictures a Vision Board?
You can use the Google search engine and select images. The images which make you feel smile or happy are the best ones. You can print these pictures as colored images or store them in your cellphone gallery.
You can also choose and cut pictures from books, magazines, publications or newspapers.
If you cannot cut pictures from books or magazines or newspapers, and if you like them, you can even click a picture of such pictures on your camera or phone camera.
If you feel sad or lack while selecting pictures, start with

Money Magnet Ritual 1

of blessings things that you have in your life and

Money Magnet Ritual 3

of loving your desires. After practicing this ritual for a few mins or some hours you can again start searching for pictures for your vision board.
When you see the pictures, you can even visualize that you already have that with you, and if you feel happy at that moment, you must definitely select these pictures.
You can choose one picture or many pictures of the same or different categories. Like you can choose a picture of a bag of currency notes, a wallet full of currency notes, vacation spots, office cabin, etc.
The type of pictures and number of pictures depends on your inner guidance or happiness.
There are no set rules for a number of pictures. You may choose either 2 pictures or 5 pictures or 12 pictures, this depends on you. A person may connect just to a single picture and manifest his/ her desire and another person may love many pictures on the vision board and enjoy the abundance.
You should not set any limitations that only if you choose a minimum of 5 pictures then only it will work for you. Don't get into the questioning mode, focus on your desires.
Do this picture selection as if you are nurturing a baby with love.
This vision board is your baby so do it with happiness.
Enjoying the process of picture selection is also a way to attract what you really want.
How do You form a Vision Board of the Pictures?
Stick these pictures on a Corkboard or pin them on a corkboard.
Stick the pictures on colored cardboard or whiteboard or blackboard.
You can save individual images in your cell phone gallery in a separate new folder. You can go to that folder and you can watch these images as a slide show, where pictures will keep coming one by one. You can check if your phone has this option. Most of the phones have this option.
You can even take a long book as landscape format, the A3 drawing books that children use for painting. You can stick pictures in this book on one page or different pages as convenient. You can look at images in this book. The book can be plain without ruled lines, this will make the pictures more clear. The size of the pages in the book can be even small as a short notebook or diary if that is more convenient to you. You can even carry it in your bag and look at it at the workplace or while traveling.
You can also opt for a single way or multiple ways as described above. You can have it on the corkboard as well in the phone gallery.
You can decide the method based on your convenience. If your wish is fulfilled you can change pictures and discard the earlier images by simply tearing the paper images or deleting them from the phone gallery.
Where to Keep the Vision Board
You can keep this Vision board anywhere at home or workplace, wherever it is convenient for you.
You can even keep it in your bedroom. This way you can look at it every morning as you get up and at night before you sleep.
You can click a picture of this vision board on your cell phone and keep looking at it multiple times during the day.
When you prepare the vision board in a book, you may keep this book anywhere as per your convenience. You can even carry it along with you on travel or at the office.
Can the Pictures be changed on the Vision Board?
Yes, you can. If you feel more connected or happy with new pictures, you can add them to your current vision board or you can remove old ones and replace it with new ones.
Do what makes you happy with picture selection.
What to do with the Vision Board?
You can look at individual images or the whole vision board as many times as you can.
You can see the images for a few seconds or a few minutes as you feel comfortable.
How many times should you see this Vision Board?
There is no limit to this practice of seeing your vision board.
You must see this vision board at least 2  or 3 times for good results.
How about seeing the Vision board once in the morning as you start your day and once before you sleep? This will keep you connected with the wish.
Don't take the stress of seeing your personal vision board multiple times if you cannot do it. Whenever you practice seeing this vision board, do it with ease, and do with happiness.
Tip for VK Users
VK users can send the energy of GOLDEN SUNRISE with their VK to their vision boards from any distance with your VK with a simple request to VK.
You can just hold or touch VK and say: "VK please energize my Vision board with GOLDEN SUNRISE". Say this 3 times and keep VK aside for 30 min. After 30 min you can place any other request.
You can also follow

this VK Tip

.
VK users can energize their vision boards as many times as they wish during the day. If you have multiple VK, you can use this BOOST method.
VK users can continue to take the energy of

TOTAL WEALTH SERUM

and

ALPHA MALE SERUM

or

ALPHA WOMAN SERUM

.
You can send

LOVE SERUM

to your Vision board with your VK.
You can even say to VK:
I love you VK for energizing my Vision board.
I love you 11 Cosmic energies in VK for helping me to manifest my wish.
I love you VK for the easy manifestation of my wish.
I love you VK for blessing me the enthusiasm to fulfill my wish.
I love you VK for blessing me happiness on a journey to fulfill my wish.
I love you VK for taking care of me.
I love you VK for blessing me faith and patience to fulfill my desires.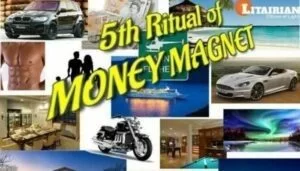 Benefits of 5th Ritual of Money Magnet with Golden Sunrise
When you search for pictures for your vision board, you will feel your desire closer to your heart.
When you collect pictures with happiness, you will feel the same feelings as if you are already living your desire.
When you see your vision board daily, you will enjoy the journey of reaching your desires.
When you see your vision board through the day, it will remind you where you want to reach.
Daily seeing your vision board will keep you connected to your wish.
Seeing pictures in your vision board will make you more energetic and fill your action with more enthusiasm.
Chanting of GOLDEN SUNRISE while seeing the pictures in your vision board will energize your wish.
Sometimes, if you feel it is impossible to reach your desire, you must chant the

GOLDEN SUNRISE

while seeing the pictures. This will help you to clear the obstacles. This will also help you to remain focused on our wishes. Chanting of GOLDEN SUNRISE with Vision board will divert your attention from worries and sadness to freshness and happiness.
If you choose to display your Vision board in your bedroom or at home, your family members will also see it. They will also get connected to this wish as a family wish.
You can also choose to share the images with your spouse or children or parents or other family members on their phone, and if they wish to watch it, this will be added energy to your wish. Their blessings will certainly help you.
If you are not able to share the vision board with family members, that's ok, you can follow this ritual and see your dreams coming true with happiness.
Images are the best way to make an impression on the mind. Feed your mind with your blossoming desires through this Vision Board.
Put your best efforts to collect beautiful pictures in these 6 days of 5th Money Magnet Ritual and prepare your colorful Vision board. This practice can be continued beyond 6 days to add more pictures if you feel. But you must prepare your Vision board in these 6 days to get the benefits of 40 days ritual to become a money magnet. If you are serious to become a money magnet in 40 days, don't take any breaks and do every ritual with love.
You must continue the 1st ritual of blessing things that you already have in your life. You can also bless other people who already have things, that you also wish to have as guided in 2nd ritual. Don't forget to love your desires as practiced in the 3rd Ritual. Continue reading about habits of self-made billionaires and do share what new habits you added in your life.
SEE YOUR DREAMS HAPPENING WITH YOUR VISION BOARD
Must Check ⇓
How to Become a MONEY MAGNET in 40 Days Part 1 (Day 1 to 5)
How to Become a MONEY MAGNET in 40 Days Part 2 (Day 6 to 10)
How to Become a MONEY MAGNET in 40 Days Part 3 (Day 11 to 16)
How to Become a MONEY MAGNET in 40 Days Part 4 (Day 17 to 23)
How to Become a MONEY MAGNET in 40 Days Part 6 (Day 30 to 40