Golden Sunrise Friends, I came to know about VK, when I was searching for more info regarding LOA (Law of Attraction), there I came across Sharat Sir's blog litairian. I read articles about VIBBES KADA. Like attracts like.
I wonder what that thing is. As I don't have much knowledge in the Hindi language, I want to know "KADA", then I search and found it. Then curiosity begins, then I found videos posted by Sharat Sir on YouTube.
There I found various disease healing videos, also LOA videos, Affirmations, Switchwords, Energy Circles (EC) (I didn't hear about these on those days). When I watched some videos, I felt that I was in deep sleep after watching videos.
I realized there is something in those videos. So I emailed to Sharat Sir on 27th October 2015 regarding to get one VK for myself. Sir asked, about adding me on WhatsApp. I exchanged my details about the bangle size. Fortunately, Sir has the attuned VK which was ready for me.
So, I got VK on 3rd Nov 2015.
On this day, first I lost my SmartPhone (which was given to me by my company where I do consult services for IT).
On that day there was also (Tuesday) Mass Healing in the WhatsApp group. I sent an email to Sharat Sir about my inability to do Mass Healing. So he said, "You do as you planned" regarding Mass Healing.
As I don't have my phone, so I don't have the name list for Mass Healing. I just created the EC & imagine the listed names created by Sharat Sir.
Once my mother had pain in the finger, I just rotate 10-12 times over that finger and forget. Later my mother said there was no pain.
After the Mass Healing, I somehow transition myself to a positive vibe. I was no more worried about the lost phone. The very next day I told the company about the lost phone. Surprisingly there is no question to me regarding this. Also, I got another Samsung Smartphone which is still with me. From that day onwards I knew that I should not worry about anything as VK is with me.
One day some Wasps are stung my Son in the neck area, there was hugely swollen and severe pain due to these stung. My wife told me over the phone. I instructed her to rub ice on the affected area until I came. I rushed to the home and requested VK and rotated VK over that area.
The pain was reduced within 15 to 20 mins. My son was ready to play after 30 mins. I continuously healing him every 2 hours. The next day there was neither stung marks nor swelling also. Thanks a lot, VK, and Love you Sharat Sir.
Since then, I never ever have any doubt about the working principle of VK. After that, I wear it regularly and always talk to VK at every possible moment, mostly whenever any human or animal is in need of help. Just request to VK to heal their situation without knowing them. Till now healed more than 100 situations where 58 are on record.
Yes, I have created a word file "VK Patient Record (VPR)". There I mentioned the Patient's Name, issues, energies used, and how it's been given like via Water, Name, Photo, EC, etc. Direct healing requests are mostly off record.
As I do send energies on the way any time i.e. at the home, office, shopping mall, vegetable market, on the bus, on the train, inside lift, in theatre, in sea beach, even while driving a bike, in WhatsApp group when a request came for a mass healing.
Let me share some wonderful experiences with you
The amazing success of GOLDEN SUNRISE Energy with Energy Circle (EC)
One of my friend's cousin brother stood inward member election, my friend requested to test VK about the winning of his brother. First I reluctant to test. Then I explained to him that for any wrongful intention it will not work. He convinced me that his brother very decent and good person.
So I agreed. I created an EC where on the top level of the inside circle I wrote GOLDEN SUNRISE, in the middle level I wrote the Name, and bottom level I wrote the wish. I created this with MS Word on my Laptop. I took the printout and pasted it on my side desk of Office. Also, I took the snap with my mobile.
I requested "VK Please energize the EC with Full Power" and leave it as it is. Then whenever I got a chance I just hold VK and request to energize the EC. The wish manifested. His brother won that election without any contest.
Then my friend acknowledged the power of VK. Then his next wish was to make his brother to be Chairman of all the members. I was also very happy. Again I created the same EC. I wrote the GOLDEN SUNRISE as it is. In the middle, I wrote all the 18 members Full name including his brother's name on the top list, at the bottom I wrote the wish "Everybody voted for (Full Name) as Chairman". Again the wish manifested. My friend's brother won and selected as Chairman and he is continuing his tenure. Below you can find a sample of Energy Circle I had used.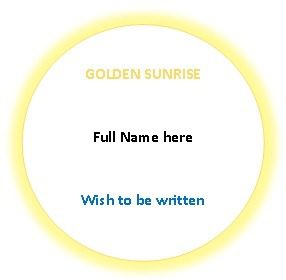 Another Experience with Vital Organ Balancing (VOB)
I have one cousin sister who had transplanted her both the kidneys long back nearly 15 years. She regularly maintains her diet and does regular check-ups once a year with Doctor. 4 months back when she returning from her regular check-up.
She got severe infection and dysentery. Her hemoglobin was falling. Also, her creatinine count was falling. She had been admitted to the hospital. There she was very much depressed that she lost hope for her life. I did regularly attend her in the hospital.
There I send her MUS (Mood Up Serum), MMM (Maha Mrityunjaya Mantra) as long as I stay there. After she was stable then we take her home. But the problem was her hemoglobin and keratin count was not increasing. So I started regularly for one week VOB healing at her home in the morning before going to my office.
Now she is fine. But here amazing part is during VOB healing I never rotate on the local points, rather I rotate only on the head. But my intention was on the particular body parts while rotating. So I felt at that time, intention only matters in any type of healing as well as VOB healing.
Golden Sunrise Wall paint Experience
One of my friend running an NGO named "PRAYAS" and a Special School for mentally challenged children. After a long gap of 23 years, we met. After I knew his initiatives and activities, I want to help him as I can. But financially I could not. But as a VK user, I tried to help him by exchanging energy in other ways.
I just told him to hire an artist who can paint on a wall about a rising Sun with beautiful scenery. Also, I suggest him to write GOLDEN SUNRISE. When finished the paint he sent me the picture. The very next day he told me the experience. He told when he saw the wall a feeling of calm & hope creates inside his mind.
On that day whoever comes to his place had a good feeling towards his noble cause. Some person who was not contacting him for a long time regarding the development of the organization had called him. After 3 or 4 days he said they are planning to buy a land of his own to construct his own building (as it is a rented place), as the landowner was donating the land to him, but he had to pay the registration amount only.
I was very excited to hear that. We friends are tried to collect as much as possible for that registration amount. In that meantime during collection, he got a very good offer from a Company that will construct the entire building with all facilities to run the organization as per CSR guidelines. When he told me this development, I thanked VK and Sharat Sir for this gift.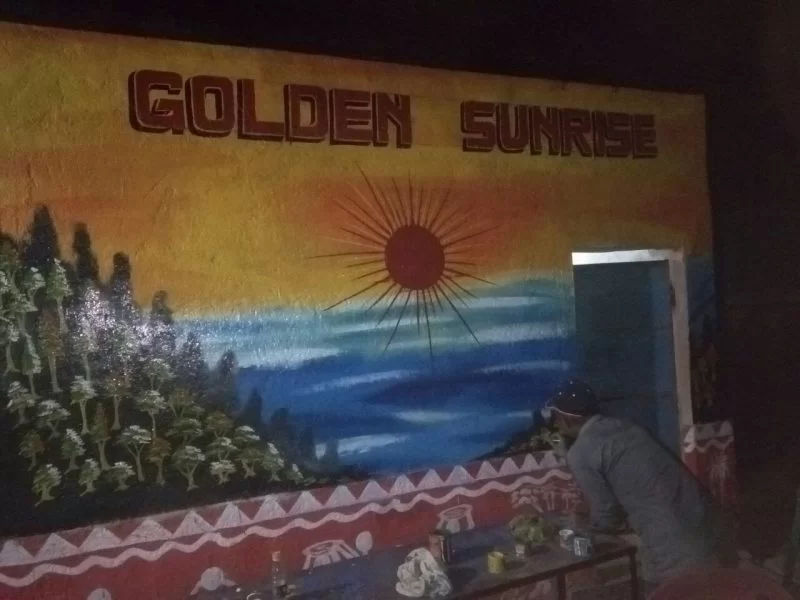 Another Experience with GOLDEN SUNRISE
My friend wanted to buy a second hand Van. As the Van owner was our customer too. My friend negotiated the price to Rs70,000/-. He told me about this. Then I suggest let us negotiate again if he can further lower the price.
At the beginning of the negotiation meeting, I requested "VK Please activate GOLDEN SUNRISE make the owner to listen to my voice reduce the price". When further asked he agreed to Rs.60,000/-. I kept requesting to VK for further reducing. Then finally the deal closed at Rs58,000/-. My friend surprised about the power of VK.
Experience of a simple request
On my son's birthday, I went to the temple for puja with my family. Since morning I request VK for smooth going at Temple like no crowd at that time of puja. At 11 am we went to the temple, found there was no crowd at all, and thought might be temple closed. But to our surprise temple was opened.
We did the puja. When returning I forgot to pick the Puja Thali. When we searched at Home, nobody found that. Then I remembered that I kept that at the shoe stand. Here I request VK to keep the Thali as it is. I again went to Temple and there the Thali kept as it is. So VK secures our things also. Thanks to VK and above all Thanks to Sharat Sir.
Another Experience of a simple request
I and my friend were searching for an office to rent for my IT service center. My friend got a call for this. We both went to finalize that. The landlord offered Rs3000/- plus Electricity Extra. We saw the place and about to finalize the deal.
At that moment I request VK for lowering the rent. This time the landlord agreed to offer the same price of Rs3000/- including Electricity. In today's world who will give such a concession. But we got this and continuing there as of now. Thanks to Sharat Sir for this precious gift VK.
Now I am on Lifelong Tour with VK beyond the Earth plane.
Thank you, Sharat Sir for this Divine gift to mankind.
Love you VK
Thank you VK.
Never say Bye.
Say Till then Bye.
Must Read:
Also read more VK Success Stories in the VK Forum
Beautiful VK Experiences by Balbir Rani Kaur From Singapore
My Experiences with Magical Golden Sunrise and VK – Kuldip Singh
Miracles Do Happen When You Work With VK (VK Experiences by Sonia)
Divine is My Constant Money Provider (A Personal Experience of a VK Teacher)
My Wedding Bells With VIBBES KADA and GOLDEN SUNRISE Project by CK Jana
How a Metal Bangle has the Power to Transform Your Lifelong Story by Barinder Kaur