GOLDEN SUNRISE Friends,
It's been a year but I feel VIBBES KADA® has come to me NOW as all my memories have come alive. In August 2015, someone gifted me this Energy circle of "GOLDEN SUNRISE COUNT" with a beautiful Sunrise picture. In August 2015 I came across VK, on litarian.com while searching for some switch words. Little did I know that it would soon come to me and change my life drastically.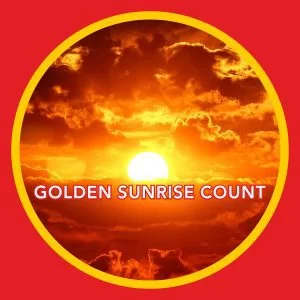 I read about VK a few times and left it. One of the VK users happened to be also a member of the switchwords group. The VK user made a comment 'Bas haath se ghumate hain aur kaam ho jata hai" (They rotate with hands and work is done!!). Thanks to this person.
This sentence hit my brainwaves and I contacted Sharat Sir on messenger not knowing anything about him… only that he makes VK. And VK came to me on a Thursday… I felt it was a blessing from SAI BABA that it's come to me on a Thursday in October 2015. Yes, I was right it came as a blessing to me. Thanks to the person who gifted me this EC and this VK user for leading me to VK.
I didn't speak to Sharat Sir on phone….. Just that he added me to a WhatsApp group so was on chat. I expressed thanks and asked him if any ritual or rules to wear VK. He said JUST WEAR IT NOW. The first day was mass healing with SHREEM MANTRA. I felt a person doing mass healing thrice a week….. every week… without any energy exchange would not be an ordinary thinking person.
In the first week of having VK, I requested mass healing to the VK MAGIC 2 Whatsapp group for my cousin who was diagnosed with Dengue. All VK users including Sir posted about healing sent to my cousin. My cousin had less severe symptoms and was out of ICU within a week and recovered very well.
The sending energy of KIWI fruit and Papaya leaf through VK raised platelet count with super fast speed. I wondered wow what a healing group Sharat Sir has? All are so helpful. I knew no one in the group personally… only that we were all VK user beads strung together in a necklace by Sharat Sir.
I did not read the manual completely and was still trying to understand how VK can be used by asking silly and irritating questions in the group. One of my old friend contacted me that his mother-in-law had brain laser surgery for a tumor. She was recovering but got memory loss after treatment and asked for help. I knew through knowledge from a medical field it's very difficult to reverse memory recovery after surgery and I wondered why this person has contacted me.
In spite of being a new user, I dared to take up this without bothering it would work or not thinking that maybe it's a DIVINE wish that I become a medium to some goodness. Knowing that VK has the capacity to mimic many other healing modalities. I started sending the energy of Memory recovery EC and brain Sanjeevni circle along with Divine energies to her.
After around 10 days, his wife contacted me and said thanks to you and May God bless you Rakhi…. my mom is recovering with memory. OMG, this was unbelievable for me. And I realized VK was something extraordinary which I never thought.
I read more about GOLDEN SUNRISE on litairian.com and from the group. I was recently associated with a new NGO at that time. They had built a new wall to prevent foul smell to the learning center. I said casually why not paint something here. They asked what. I said what about a sunrise from a mountain and write the switchword GOLDEN SUNRISE. And this is what they did.
I also shared a few energy circles for student's memory and success and some for financial funding. After few weeks, I got a call from the NGO they were seeing a lot of changes in students and also getting a lot of sponsorships in the form of events where children could participate including those with celebrities. I realized my VK request to activate all Energy circle created by me was showing up. Recently this NGO included Sunrise picture in their logo.
Things started changing in personal life….I was becoming more compassionate and thoughtful for others. I lost my father in 2014 and my mother was not able to cope up with this reality of losing a companion after decades of marriage. It was getting difficult to manage her depression episodes sometimes very quiet and isolating herself and sometimes getting violent at everyone.
It was almost a stage of taking her to counseling and putting her on antidepressants. Being a pharmacist I knew about the side-effects these drugs would show up. I asked Sharat Sir for help. He advised giving BACH flower remedy RESCUE with VK. For a week I sent her RESCUE and… there, she became calm. I continued with MOOD UP SERUM with VK for few weeks and saw a wonderful change in my mom. She started settling and everyone was peaceful. This is one of the precious gifts VK and Sir has given me.
One day I called Sir… this was my first talk with after getting VK. I asked him a question I want a certain thing to happen how much time it will take with VK energy. He answered me with a question back to me. He asked, "Baccha paida hone mei kitna samay lagta hai?" (How much time does it take for a child to be born?) 
My reply was 7 to 9 months…So will it take more than 7 months I asked him innocently? He said a spiritual child is born in a moment. I got his answer to my question…with VK time is an illusion. We should not count how many days or weeks it will take……as it will happen anytime NOW.
I also told "Sir Manual mei likha hai 3 baar VK ko request karo, lekin mei to 3 baar nahi bolti. Kabhi kabhi to bina bole sochne se kaam ho raha hai", (Sir in manual its written that we have to request to VK 3 times, but I don't say it 3 times…sometimes even without request only with thinking things are done !!!).
He laughed and explained, VK listens to your heart and to your thoughts also and accomplishes. I said wow so whatever I wish and think will it happen Sir. Sir said VK listens only to positive thoughts so it will pick up only good ones. VK has a lock where no negative requests can enter. I thought to myself……What could be better than this!!!
On some questions in my life, I felt stuck. I asked Sir he replied Request VK to show you a path. I asked Sir but how will VK show the path. He said ask for signs.
I requested VK to show me the path. If I am thinking right I should see a Pink car or closest shade to a pink car by tomorrow. In the day I started wondering are there any pink cars in the city and I thought to myself it's a CHALLENGE FOR BOTH ME AND MY VK TO SEE THIS SIGN because I did not see any pink car in the day. In late eve, I was walking on the road feeling sad that the answer to my question is NO…
Just then I saw a pink car coming out of a gate, it was a pickup car of a 5-star hotel and it passed by me. This is the picture of a similar car I saw. YES, IT WAS A PINK CAR INDEED. I got my answer that I was on the right path. I have now picked up the picture of the car from that hotel website for the readers of this article and now you can imagine what I must felt at that time both about my question and about VK's power.
Actually, I was so stuck that I had requested Sir to tell me the answer and he said you have VK. But I didn't imagine or even know……VK would do it. And thanks to Sir he made me get my own answers. I realized Sir wanted me to become independent and find my own answers. And VK became Mini Sir for me and my BUDDY thereafter.
As I am writing this experience I am in tears…how could I underestimate the power of VK at that time!!
In the beginning, I sometimes got confused about which energy for what……one day I read an article by Sanjay Roy Sir… HOW TO USE VIBBES KADA with simplicity and Ease… this article was like Sone pe suhaga (Something more to gold) in my using VK. I learned Just request VK what you wish. No need to get confused when one feels stuck and doesn't know what energy to send and whom to ask.
Sometimes when I felt powerless I simply requested 'VK Please get me out of this situation/this feeling'. The problem was still there but I got back my power to deal with the difficult situation. Thanks to Sanjay Sir for this article. Thanks to Sharat Sir for making it so easy to use VK.
A bubbly child started losing interest in things and even in the family. The child isolated itself from others. No one could handle the child and it went crying only to the mother. Counseling did not help. I felt something was there which disturbed the child but it's not able to express.
Requested VK to send Bach flower remedy RESCUE to the events in that child's life that caused a disturbance. For few days and…then with a simple request to VK to make the child happy and bubbly again. The child started changing after a few weeks. After 3 months the child is normal happily mingles with everyone. God bless the child. Gratitude to my VK and Sharat Sir.
My mother recovered mentally after VK…but her eczema which had started months before I got VK had increased to a level where doctors said it cannot be healed. With Sir's guidance and VK, this eczema could be improved, details of which are in my previous article on litairian.com with the title… IT IS SIMPLE FOR VIBBES KADA BUT PEOPLE CALL THIS MIRACLE… Patience and determination pay well… Here is the picture. 
On the financial front, the organization I was working with incurred huge debt, and I was not getting my salary…..once in 2 or 3 months or so. I spoke to Sir about how can I get my salary. He advised using SHIELD OF SEVEN RAYS with VK for your salary.
He advised giving SHIELD even to my career path. I asked him how can it happen so many are suffering. I told him I have reached a stage where I would not get a job at a higher level now due to saturation in the industry.
Sir replied you have VK and you will stand out from others. My trust in VK had increased and also my faith in Sir because whatever he guided worked for me, With SHIELD OF SEVEN RAYS, I actually started getting salary though it still followed the delay.
I quit my job and joined to make a company with my colleagues using SHREEM BRZEE and TOTAL WEALTH SERUM with VK. GOLDEN SUNRISE with VK helped me at every stage to form the company and come out of all limitations. I am now starting to work on my dream to become an Entrepreneur which I dreamt of a decade back. 
NEVER GIVE UP ON YOUR DREAMS IS THE LEARNING FOR ME
SHIELD OF SEVEN RAYS helped me in safety. I was once driving my car and suddenly lights went off at a big signal and there was chaotic traffic and no one was following rules. In my thought, I quickly said VK SHIELD OF SEVEN RAYS… before I could complete a request to me and my car… Just then a vehicle hit my car but nothing happened to me and my car had a negligible scratch.
VK does not require request, I feel it follows my heart. Just with an intention to my VK, I could help a lady to put a stop to her thought of going ahead for divorce after an abusive relationship. Activating LOVE energy between them… she calls me to tell that her husband spoke to her with love the previous night. Another Wow.
I wanted to join the Student leadership program as a mentor through an NGO but because it was a 13 weeks program and schools were about to close in 2 months for exams and vacation… I was informed it would be possible only after 6 months… after the school reopens post-vacation. I started sharing my wish with VK. And there something which was never done got arranged. The NGO designed a 7 wks program for us which ended just before exams.
I was taking the Student leadership program in the school recently on a weekend when the school was closed but the children came for coaching. One student suddenly started crying. She said she was ok in the morning but she was feeling feverish and weak to sit. I checked her she was having a very high fever above 100°C… I guessed.
Making her sleep joining 2 benches I sent her PAIN CARE SERUM with the direct request to VK. Another request to VK that she should recover before the session ends. After 15 min she was in deep sleep and when the session ended there was no fever. She got up and went home alone.
After some time I got a call from her mother that her daughter was ok and reached safely. I didn't know her name amongst the 40 plus students in the class…..just requesting to VK looking at her.
How simple it is and so quick to send relief to a child even when one doesn't know the name of the person.
A friend called me that her brother was arrested as her wife complained against him for being abusive and not maintaining her. She asked for help and said her brother was scared though innocent. Through VK I sent him SHIELD OF SEVEN RAYS and GOLDEN SUNRISE. The lawyer could not be reached and the sisters were staying far. After around 20 min she called saying that police released him without much questioning even when the lawyer did not reach. It was amazing again.
Sharat Sir says VK should not be used for immoral motives. Also, it will not listen to a person's request to help a wrongdoer in a court case or otherwise. But it will protect if the person is innocent… and here I could see it happening.
Just a thought came on late night on a Sunday when I missed watching the laughter show…I requested VK…ENERGY OF KAPIL SHARMA's COMEDY SHOW TO ME. And instantly I started laughing. It was fun. I repeated the request and again I laughed instantly.
The next day I requested this for a serious person sitting in front of me in a discussion and I saw him laughing while commenting on some matter. VK mimics HAHAHA effect so well. I could experience what Kapil's show effects without even watching it.
One small experiment with VK that I sent the energy of KIWI Drainex powder to my kitchen sink in the night…thinking I hope I don't have to call a plumber the next day as it was getting choked frequently. And the next day the water flow was smooth. Wow.
Another experiment was with my dirty transparent mobile phone cover. I charged water with the energy of detergent powder and dipped my cell cover in it for 30 min. The appearance of the cover improved but the brownish shade did not clear off.
The next day I actually dipped it in a Detergent solution for half an hour and cleaned it. There was no change in appearance. OOPS VK was actually MIMICKING the detergent power to the extent it would work.
Relieving a person with severe pancreatic pain using the Emotional Freedom Technique (EFT) through VK made me think how well a simple-looking bangle can mimic other modalities without the need to know how actually EFT is done.
A domestic helper with an 11-year child deficient in Hemophilic factor VIII could not afford the monthly treatment. He had to take a replenishing injection of Factor VIII every 25-30 days costing at least INR 6000 to 8000 depending on the dose. If the dose was delayed the child would get swelling of legs to the extent that it could not rest the feet on the ground to walk and other undesirable symptoms.
The child was supported by the hiring family but the helper felt obliged. Hemophilic society generally provides free injection to members but there was a shortage occurring quite frequently and they had to arrange through some distant hospital with a cost.
Requesting GOLDEN SUNRISE to make way for his free treatment. I came across a pharma distributor who suggested to write to the Health Ministry and request for arranging free dosage. Giving all credentials of the child I wrote to the ministry. After that all his treatment was free. Recently the child was selected as one of 30 patients who would receive the regular dose every weekend free of cost.
Energies from VK MAKE WAY and provides guidance through humans or signals to take actions to attain the wish of a person. But it's important to listen to the guidance and act.
Practicing GOLDEN HEART BLESSING MEDITATION with VK and sending blessings to a youth's talent, thoughts, and career path gave so much happiness. This person was struggling for months due to the average academic record in spite of being smart and talented…actually got in a new satisfying job in a reputed organization.
BLESSINGS WERE TRULY ENHANCED
Mahamrutunjay Mantra is a mantra that helps a stuck soul to move on. Some get liberated and some get healthier to lead a new life again. The sending energy of MAHAMRUTUNJAY MANTRA with VK I could actually experience this… one soul left for a heavenly abode with a peaceful end. One morning at 7.30 am, I could feel the resistance in sending MAHAMRUTUNJAY MANTRA to this person and later I got to know the person left in peace on the same day at 4.30 am.
VK is a metal wristlet attuned with Cosmic Energies but I am not able to see the energy. This would be a question in the mind of any user. I do not see the wind but feel its energy. I do not see what love is but understand what it feels to be loved. I realized why I could feel the resistance while requesting VK at 7.30 am that day…the energy was not leaving from my VK as the person was no more.
No human or living being is immortal. We have to do our karmas and leave this world. We cannot stop death against the wish of the Divine but we can make efforts for a peaceful journey of life. Sending the same energy of Mahamrutunjay mantra through VK in mass healing helped a little 7-year girl to recover from continuous seizures and distorted facial muscles.
VK is a blessing to me as it makes me a medium to help others in pain.
The more I explore the more I get. Ending my note with a recent experience…..a person was hospitalized and was serious with multiple blockages in heart blood vessels. Through VK I sent the energy of HEART SERUM and MAHAMRUTUNJAY MANTRA. 
Based on guidance received from Sanjay Sir requesting VK to REGENERATE BLOOD VESSELS TO HEART worked wonders. After 3 months this person is able to do all the routine activities with ease.
SKY IS ALSO NOT THE LIMIT WHEN I EXPLORE MY VIBBES KADA
Experiencing small and big joys of life such as a smile from a person relieved from severe pain, two friends in a fight hugging each other, receiving unexpected money, GOLDEN SUNRISE clearing all obstacles, assignments happening at a super-fast speed, easy driving through heavy traffic, choosing a useful gift, receiving blessings from people, receiving funding for social work beyond expectation, major energy shifts with OPEN EYE MEDITATION, getting reconnected, calming a disturbed mind, attracting like-minded people in life, strengthening family bonds, disappearing of dark patches on skin from a medically irreparable disease, smiling faces, restarting of a loudspeaker which had suddenly stopped in a social event, healing a painful area with GOLDEN HEART MEDITATION with VK, receiving more respect and love, connecting to beautiful souls, unexpected discounts and free services…this is what I experienced with VK.
MY EXPERIENCE LIST IS STILL BIGGER
I am grateful to Divine and my SAIBABA for connecting me to a beautiful guiding soul Sharat Sir. Divine thanks, Sharat Sir for gifting me so many gifts through one GIFT OF VIBBES KADA®.  God bless you and your family with abundance and prosperity in all aspects of life.
Heartfelt gratitude to Payal Jain for the learning, love, and support I receive from you unconditionally.
Gratitude to Sanjay Roy Sir for teaching me both simple and creative ways of exploring with VK.
Gratitude to all the VK users who have taught me so much with their questions and sharing experiences.
Last but not least……a BIG THANK YOU to my VIBBES KADA®…….you are not a tool to me…..You are my inseparable friend listening and accomplishing my small and big dreams.
It's only one year now and I and my VIBBES KADA® are walking together on the path to fulfilling so many wishes of so many under the guidance of Sharat Sir.
!!!GOD BLESS ALL!!!
!!!OM SAI RAM!!
Must Read
My Experiences with Magical Golden Sunrise and VK – Kuldip Singh
Divine is My Constant Money Provider (A Personal Experience of a VK Teacher)
Miracles Do Happen When You Work With VK (VK Experiences by Sonia)
My Wedding Bells With VIBBES KADA and GOLDEN SUNRISE Project by CK Jana
How a Metal Bangle has the Power to Transform Your Lifelong Story by Barinder Kaur
Beautiful VK Experiences by Balbir Rani Kaur From Singapore
Also read more VK Success Stories in the VK Forum